The wedding exit is an ancient tradition still used today that is not only fun for the newlyweds but for the guests too! Grains like wheat were originally used in wedding ceremonies as a sign of fertility and prosperity. When grains were used it was good luck and considered blessing the newlyweds. Today wedding exits are still used for tradition BUT provide great photo ops. This brings us to the first wedding exit–
Rice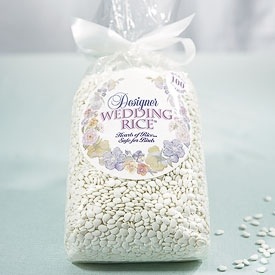 Rice is very traditional. It's the most commonly thrown item for American couples. Heard the rumor that throwing rice is harmful to birds? It's just an urban legend.
Beach Balls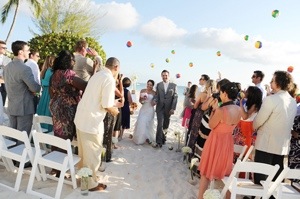 If you are tying the knot at the beach this is something perfect for you. A beach ball exit is fun, different, and looks great in pictures!
Paper Airplanes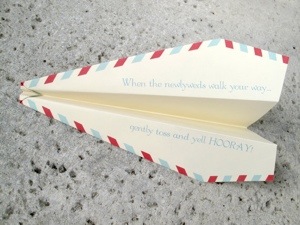 This is a new one and is definitely different. Have airplanes folded up (even print directions on the wings) and get the guests to toss them in the air on your walk out.  Idea: Fashion programs so that they can be used as airplanes?
Roses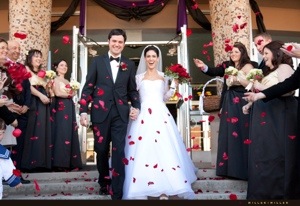 Flowers are used often these days but add class to your exit. Rose petals look great in photographs yet make your exit different.
Sparklers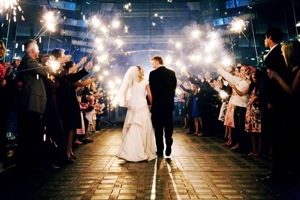 Probably my favorite exit– sparklers. Everybody loves sparklers and for night exits they look GREAT in photos.
Glitter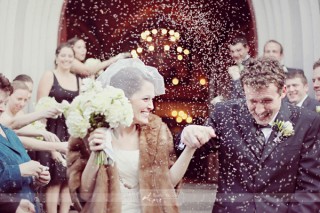 Glitter is simple and easy to find and looks great for daytime photos. Just remember– glitter isn't biodegradable so there will be a bit of clean up for this one.
Bubbles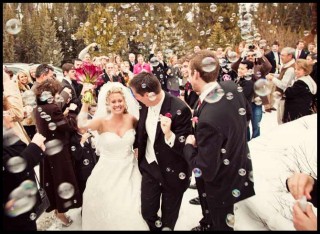 Who doesn't love bubbles? Fun for both adults and the younger guests! Easy to distribute and look great during the day. Many companies customize the bottle of bubbles for your wedding day which adds a personal touch to your bubble exit.
Silly String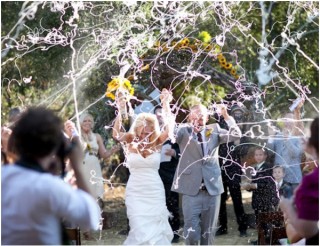 Ok now this looks cool! If you can get guests to not fire silly string right at you but get them to shoot it up more then it works well. This is a really cool and different exit but think about clean-up with this one. After this exit you will have silly string all in your hair and all over the tux and dress.
What is your favorite item to spruce up a wedding exit?
Comments
comments